Star Wars Valentines Cards and Matching Love Puns to Use
This year, send Star Wars Valentines cards to your loved one so that you can conquer the galaxy together. As well as cards you can buy, I've also hunted down my favorite free printables on this theme as well as loads of short Star Wars love puns and quotes.
Impress your geeky other half this Valentine's day by sending unique Star Wars love cards to remind them that they are still the Obi-Wan for you. Add in the free, matching puns and quotes to make the card really special and out of this world.
You'll enjoy reading the fun geeky love puns on this page. You can add these short quotes and sentiments inside your cards to impress him or her with. Enjoy this trip down geeky lane.
Note: This post may contain affiliate links for which I can be compensated.
Star Wars Valentines Cards and Matching Love Puns and Quotes for You to Use
Image Credit: Original image shared by Campanula13 on Pixabay with a CC License
Table of Contents: Scroll Down to Go to a Section or Read On
Star Wars Valentines Cards to Buy Online
Free Printable Star Wars Valentines
Star Wars Love Puns and Short Quotes
1: Star Wars Valentines Cards to Buy Online
Get this Star Wars Boba Fett Valentine's Day Card from Amazon.com
UK Readers get a
Star Wars Valentine Card from Amazon.co.uk
Boba Fett is one of the most recognized characters from the classic Star Wars movies. I love this design where this popular bounty hunter is holding up a bunch of red rose flowers. Who knew he could be romantic?
This card reads:
You're worth a lot to me
. Other cards in this series include
Yoda all that I want
,
you'll always be my BB
and
you're BB GR-8
. These are individual Star Wars cards ideal to send to your loved one. Here's some more I picked out below.
The Force Awakens
is.
I love the R2-D2 droid design which features this blue and white robot on the front along with lots of mini red hearts and the wording,
you are the droid I'm looking for
.
Star Wars Valentine Exchange Cards for School and Friends
If you're looking for sets of Valentine cards with a Star Wars theme, Amazon have plenty of exchange card packs. These sets, which often come in sets of 16 or 32, are pretty ideal for kids to hand out to friends and teachers at school. They are also useful to buy and send out to your younger relatives.
Valentine Star Wars Cards from Etsy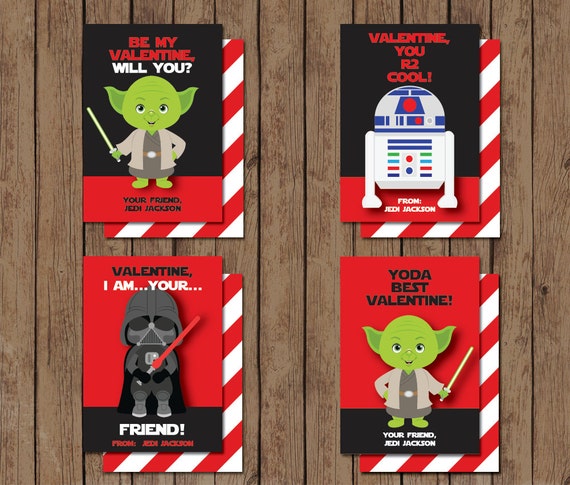 Buy this Digital Download for Star Wars Card Designs from InvitationCeleb on Etsy
Also ideal as exchange cards on this theme are these digital designs that you download and print yourself from InvitationCeleb on Etsy.
The set includes 4 different card designs featuring the classic droid R2D2, Yoda and Darth Vader. Print off as many of these as you need which makes it a great option for when you need multiple cards.
Get this BB8 Star Wars Valentine Card from playerNo2 on Etsy
This card features unique gamer style pixel art to create the new BB8 droid with a heart motif. PlayerNo2 have lots of pixel art cards just ideal for geeks.
2: Free Printable Star Wars Valentines
Here's a cool selection of free printable Star Wars Valentines. I've searched the whole galaxy to come up with the best freebies. Click on the blue underlined links to visit the free cards listed below.
1: StarWars.com Have 6 Free Printable The Force Awakens Cards
There are some really cute designs here including favorite characters from
The Force Awakens
. Featuring Rey, BB-8, Chewy and Kylo Ren. Available from the official Star Wars site.
2: Set of 3 The Force Awakens Printables
The new characters, Finn, Rey and BB-8 feature on these cute designs.
3: Yoda Best Free Design PDF
A brilliant Master Yoda design free printable. Perfect if you love green.
4: Set of 6 Mini Valentine Designs with Classic Characters
This one features Darth Vader, Stormtrooper, Yoda, R2-D2 droid, Princess Leia and Chewbacca. Could be good for classroom exchange cards.
5: Star Wars Valentine Printables with Favorite Characters
This is a set of 6 cartoon style Valentine cards by the artist and illustrator, James Stowe. Featuring Han Solo, Chewbacca, Obi-Wan and more of your favorite characters.
6: Cartoon Cards with Fun Heart Captions
A set of 4 great cards that you print from one sheet and then cut out.
7: Star Wars Valentines with Cheesy Love Puns
A set of funny Star Wars printables from
SomethingAwful.com
with some great love puns included.
3: Star Wars Love Puns. 45 Short Star Wars Valentine Quotes and Sentiments
If you're stuck for what to write inside your Star Wars Valentines cards, here's my favorite selection of short love puns to match.
The themed love puns can also be used for your own crafts, to add on to gift tags and other items. Enjoy these cheesy but fun romantic Star Wars sentiments.
Yoda one for me
You hold the WooKEY to my heart
Our love will Endor!
I'd give my right hand for you ...
You R2 good to me
My love for you will stay on target
I love you SITH much
Lost without CHEW
Yoda Obi-Wan for me
You EWOK my world
I CHEW-se you
Our love can rule the galaxy
U R2 cute
My valentine will you be?
You are the droid I've been looking for
I've been SOLO for too long. Will you be my valentine?
Come to the heart side
I am your destiny
I love you. I know!
Will you BB-8 my valentine
Ken you be my only WAN?
You're BB-great!
I'm falling fur CHEW
Call me, or call me not. There is no maybe
YODA best
You're out of this world
I heard there was a bounty on your heart
I love you more than Star Wars
I want you to come over to the dark side
You're a trooper
You light-saber up my heart
You make me HOTH and bothered
I'd chase you across the galaxy
I like you because you're a rebel and a scoundrel
I REY-ly like you
You're my REY of sunshine
You send my heart into hyper space
Without you, I'd be SOLO
I find your lack of valentines disturbing
You R2 sweet
I love you to the DEATH STAR and back
My heart's PALPATINE for you
Nice buns, Princess
You've been looking for love in ALDERAAN places
The OBI WAN who matters on this special day
Did you love that big list? You can let me know which love puns you enjoyed the most in the comments section below.
Related Content You Should Also Love:
Page Last Updated: